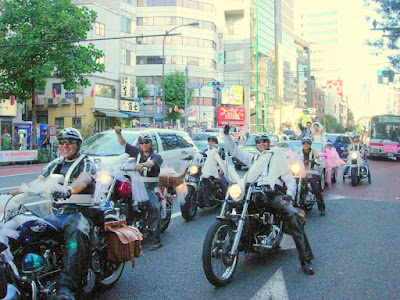 My friend Justin got married last weekend, so we did our traditional wedding parade through Tokyo. This parade had a really international flavor, with a Chinese bride and an American groom, but the crowds in Tokyo didn't discriminate, shouting out congratulations and taking pictures as if the couple were local royalty. The couple was able to share their happiness with the whole city, and brightened up quite a few faces as we went along, and in return, the whole city helped them celebrate the happy occasion.
(more pictures here, here, and here.)

It's too bad I didn't get any pictures of myself at the wedding ceremony, because I was rocking a pretty good mix of formal and biker wear (tux shirt, leather vest, chaps, and biker boots) and also wore a yarmulke for the first time in my life (the groom has a Jewish background—this may be the only Jewish-Chinese wedding I will ever attend in Tokyo.) I also had a slightly nervous experience helping interpret the speeches of the fathers of the bride and groom, where I towered behind them with people wondering who this huge leatherdude was. We had a bit of a telephone game thing going (dare I call it "Chinese whispers" in this context?) where the bride's father gave a speech in Chinese, a friend of the bride translated that into English, and then I translated that English into Japanese. But everything worked out, and then we headed off for an amazing parade.
Congratulations, Shiye and Justin!